Attica Group, parent company of SUPERFAST FERRIES, BLUE STAR FERRIES and HELLENIC SEAWAYS, is proud to announce its distinction at the ESG Shipping Awards 2023.
The award ceremony took place on Tuesday, 30th May with Attica Group receiving two awards:
Gold Award in the category Business Ethics
&
Gold Award in the category Community Contribution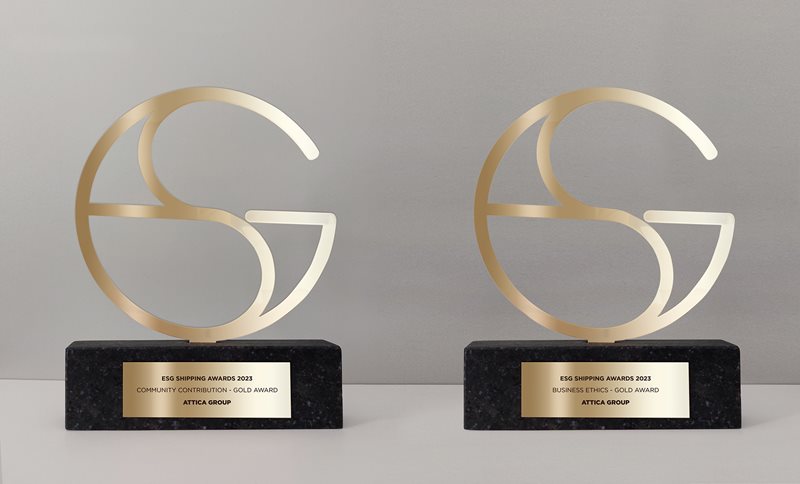 This double distinction comes in reward to our commitment to operate responsibly, with transparency and accountability, to co-operate harmoniously with our Stakeholders (Customers, Suppliers, Shareholders, Local Communities), as well as to respect the Environment, aiming to create a mutual long-term value. A commitment reflected in our Vision, our Mission and our Values, and based on our Employees' Ethos.
In Attica Group, our journey towards Responsible & Sustainable Operation is driven by the threefold 'Strategy – Communication – Results' and the integration of ESG principles in our daily operations, as well as in every new investment project.
The idea of the ESG Shipping Awards was "born" and introduced in 2023 by the need of the Greek shipping people to successfully overcome the challenges of the era. Ιn this spirit, Greek shipping companies have been leading the way for decades, developing actions and practices for the protection of the environment, the promotion of social cohesion and the principles of corporate governance.
Attica Group is engaged in passenger shipping through SUPERFAST FERRIES, BLUE STAR FERRIES, HELLENIC SEAWAYS and AFRICA MOROCCO LINK, operating 35 vessels providing modern, high-quality transportation services in Greece and abroad. Attica's vessels serve 61 unique destinations in 4 countries, connecting 79 ports and transporting more than 6 million passengers, 1 million passenger vehicles and 500,000 trucks every year.
Kallithea, 15 June 2023