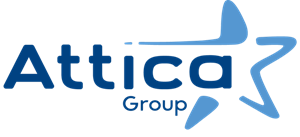 Attica Group published its 12th Corporate Responsibility Report, describing its business activities with transparency and accountability.
Attica Group's Corporate Responsibility Report:
Refers to all Group activities in the Eastern Mediterranean Sea during the period 1/1/2020-31/12/2020.
Follows the international Global Reporting Initiative's (GRI) Standards (version 2016) at 'Core' option (being the first passenger shipping company worldwide with a Corporate Responsibility Report in accordance with the GRI Standards).
Incorporates for the first time an ESG structure and presents in detail the correspondence between the Report's content and the Global Compact Principles, the Sustainable Development Goals, the ISO26000 International Guidelines, as well as the NASDAQ & ATHEX ESG Guidelines.
Has been audited and certified as per 'Core' GRI Standards, as well as for 21 key quantitative indicators, by the auditing firm Grant Thornton.
The Report is the culmination of all Group's efforts to meet the expectations of its Stakeholders and comprises its footprint for 2020; the Report focuses on issues of interest to all Stakeholders, through reference to 84 GRI disclosures and 255 quantitative indicators, as well as 29 future objectives.
Amongst others, Attica Group in 2020:
Distributed over €358.4 million in economic value:
- €79.4 million to employees (for salaries, benefits and insurance payments),
- €50.4 million for taxes (including VAT and port taxes),
- €18.4 million to providers of capital (for interest and return payments),
- €13.6 million to agents (for commissions),
- €155.6 million to suppliers (for purchases of goods and services),
- €1.3 million to society (for discount tickets, social initiatives, sponsorships and donations) and
- €39.7 million for investments.

Made 97.4% of its premises and vessels accessible to people with disabilities.
Informed 100% of employees on environmental protection issues.
Defined Responsibility among the 6 appraisal criteria for all office employees.
Tripled the number of employees trained and increased training hours by 86.9%.
Implemented or supported 118 society support programs to the totality of islands served.
Spent 85.6% of total procurement expenditure to local suppliers and 20.8% to small and medium-sized enterprises (up to 50 employees).
Communicated its Regulation of Professional Conduct & Business Ethics and Anti-corruption Regulation to 100% of its office employees.
Utilized non depleting the ozone layer refrigerants (such as R134a, R404a, R407a) in 100% of the refrigerators and freezers onboard its vessels.
Continued the voluntary blood donation program, reaching 238 blood units in the last three years.
Increased by 8.5% the number of published quantitative indicators.
Commenting on Attica Group's 12th Corporate Responsibility Report, the Group's Chief Executive Officer Mr. Spyridon Paschalis stated:
«2020 posed significant challenges for the entire World, our Country, its Citizens, as well as Corporations.
Despite the challenging situation, we continued to design and implement projects and activities to transform our Group and generate future added value for all Stakeholders. At the same time we had the opportunity to confirm that even under these adverse circumstances, Corporate Responsibility is the guiding compass for our activities.
A milestone in 2020 was the completion of our 2018-2020 Corporate Responsibility Strategy, adopted in 2017 with the cooperation of 60 Top Management Members, Directors and Managers from all our Departments, aiming to improve our performance in a systematic and measurable way. In total, we completed 73% of 104 actions defined within our 2018-2020 Action Plan and managed to improve our Corporate Responsibility maturity level by 28% compared to 2017. At the same time, we achieved our overall Corporate Responsibility quantitative target, improved in all 7 Areas of Corporate Responsibility (Management, Owners, Employees, Suppliers, Customers, Community and Environment), and achieved the individual quantitative targets in 6 of these 7 Areas.
During 2020, we have already initiated the planning and implementation of our 2021-2023 Corporate Responsibility Strategy, aiming to create a wider positive impact for all Stakeholders, by fulfilling as much as possible their expectations and by maintaining a trusted and mutually beneficial relationship. We intend to achieve this through a more extensive involvement of all our employees and by setting a quantitative target to improve our overall Corporate Responsibility maturity level by over 17%. We are committed, in the next following years, to make our Group a reference point of sustainable development for our industry at national and European level».
Attica Group is active in passenger shipping through SUPERFAST FERRIES, BLUE STAR FERRIES, HELLENIC SEAWAYS and AFRICA MOROCCO LINK, operating 32 vessels in total, which provide modern and high quality transportation services in Greece and abroad. The Group's vessels travel in 4 countries and 63 unique destinations, reach 78 ports and transport over 3 million passengers, 600,000 private vehicles and 300,000 freight units annually.
The 2020 Corporate Responsibility Report is available on the Group's website, www.attica-group.com.

Kallithea, 12th May, 2021