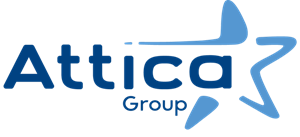 Blue Star Ferries, a sponsor of the top competitive sailing duo Panagiotis Mantis and Pavlos Kagialis, congratulates them on their qualification for the Tokyo Olympic Games, after achieving 6th place at the Vilamoura 470 World Championship 2021 in Portugal. This success won the 2016 Rio Olympics bronze medallists the internal qualification announced by the Hellenic Sailing Federation for Greek competitive sailors, while reconfirmed their place among the top teams in global sailing.
Spiros Paschalis, CEO of Attica Group, in congratulating the athletes stated: "In spite of the adverse conditions due to the pandemic, you continued to fight, with tenacity and focus, to achieve the coveted goal. Once again, we reckon your hard work, your love for what you do, and your fighting spirit. We are happy and proud, as sponsors, to have contributed to your success. All of us at Attica Group, and me personally, express our heartfelt wishes for success on your path to Tokyo, and we look forward to cheering you on and celebrating with you when you win your next Olympic medal."
The Rio 2016 bronze medallists first joined forces in June 2008. Since then, they have competed at the highest international level and are considered the best Greek men's crew in the 470 category.
We hope that the two sailing stars travel to Tokyo with the star of Blue Star Ferries and return with another Olympic medal for Greece.
Attica Group is engaged in passenger shipping through SUPERFAST FERRIES, BLUE STAR FERRIES, HELLENIC SEAWAYS and AFRICA MOROCCO LINK operating 32 vessels providing modern, high-quality transportation services in Greece and abroad. Attica's vessels serve 60 unique destinations in 4 countries, connecting 71 ports transporting over 7 million passengers, 1 million passenger vehicles and 400,000 trucks every year.
Kallithea, May 10 2021